Another New Title For Americans
We are proud Deplorables, Domestic Terrorists, Parents, Voters, Gun Owners, Business Owners and workers. We are the ones looking to unseat those of you who refuse to do the job you were elected to do and instead seek only power and money. We will replace you!
It would seem that whenever Americans begin to think for themselves and start to disagree with the current Democrat in charge they get a new label thrown at them.
In 2016 Hillary Clinton, labeled us "A Basket of Deplorables." Others labeled us "Bible Carrying Gun Toting Rednecks." But no matter what they label us we know what we are Americans demanding that they be accountable to us. That in and of itself makes them into rabid dogs determined to snarl and bite and bark at us each and every time.
Our newest label comes from our Feeble Fearless Leader Joseph Biden. We are Domestic Terrorists. Interesting label insomuch as we have not killed anyone, destroyed buildings, businesses, or cars, police cruisers, store fronts, etc…. . Neither have we sought out repeatedly to destroy our society and its underpinnings.
All we have done is demanded accountability of those in office and asked that they listen to and attend to our grievances.
We are proud Deplorables, Domestic Terrorists, Parents, Voters, Gun Owners, Business Owners and workers. We are the ones looking to unseat those of you who refuse to do the job you were elected to do and instead seek only power and money. We will replace you!
We have seen how Biden and Fauci, have treated the American Public. We are nothing but an avenue to their gaining power and financial wealth. When we complain they call us Terrorists and rioters. When we object to how parents are being treated when being advocates for their own children we are again called "Domestic Terrorists" or rogue parents. When we call the administration to task for seeking to unconstitutionally changing how we vote and the rules about voting we become "Jim Crow, Jefferson Davis, or Bull Connor."
Yet all we ask is that our government be accountable to the citizens that voted them into office.
This coming November we get to vote for an unparalleled number of legislators who will represent us. So far 27 Democrats have said they will not be seeking office again. They have smelled the winds of change and want to be gone before the axe can fall on their necks. There will be 34 Senate seats and all 435 House seats up for election in November 2022. We have watched our congress flop around like a chicken with its head cut off for the last few years.
This is our chance to pull out the Cradle to Grave politicians that have setup little kingdoms in congress. We have the ability to put people into place with fresh ideas and fresh viewpoints that should include compromise to goals instead of standing in two separate groups and voting only for what their parties put forth. We need demand of each candidate that they be ready to compromise and be willing to go across party lines to get work done that has been left undone for almost 15 years. Below find a link to Ballotpedia for a full listing of the seats up for election and the persons you need to choose from that may need replacing so we can get our government working for us instead of working to gain more power and money for themselves.
https://ballotpedia.org/United_States_Congress_elections,_2022
We are tired of being TOLD what to do by legislators, and people from agencies we did not elect and from our dear President and Vice President. Neither POTUS or VPOTUS have the sense to pour sand out of a boot and they have no place demanding we do something. We do not have to take your vaccines, we do not have to allow illegals into our communities. We do not need to be preyed upon by thugs and criminals of every type because you believe they deserve a break. The only break most of these criminals deserve is whether they get a baloney or ham sandwich for lunch while in prison.
The fact that you have someone who has stifled scientific discussion about COVID-19 as the leader of our pandemic response is criminal. The facts that Ivermectin and Hydroxychlorquine have been used in many countries to stem the pandemic significantly. Yet to use them we have to go to court and have judges demand hospitals allow our doctors to administer it to our dying family members in order for them to recover. When first tasked with checking out Hydroxychloroquine you tested it on people using lethal doses so as to prove it was a dangerous drug.
You had your pandemic expert insist on vaccines with mRNA which we have found to be criminally dangerous to the average person and deadly dangerous to anyone with even the mildest comorbidity. Now you are insisting we inject these poisons into our children. We say NO NO MORE!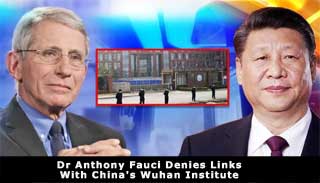 Dr. Fauci, the head of the administrations effort in regards to the Pandemic has funded the Wuhan Institute and has links with CCP an a vested interest in the vaccine companies. All the while he played the good ole doctor to the American Public.
He has betrayed the American Public and his country all for money and power just like our "wonderful" politicians. He has helped restrict the drugs that could have been used as therapies for COVID-19 and saved thousands of lives. All because he had a financial interest in companies that would provide "The Vaccine" for the the United States. In this he deserves for us to bring back public hangings and making him the hangman's first customer.
You decide people should we be removing the fools that have allowed our country to wallow for almost 15 years? Should we take them out of office and in some cases pursue them legally for their criminal behaviours?